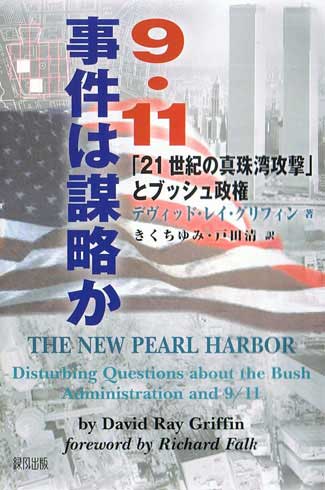 Dear 911 Truth Seeker,
Finally, the Japanese version of David Ray Griffin's book
The New Pearl Harbor
is out! It took us more than 10 months to translate the book (mostly because I was busy with my other volunteer work). The co-translator, Mr. Kiyoshi Toda of Nagasaki University, is an environmental specialist and a 911 truth seeker, like myself. I have known him since 1992 when we participated in the
Rio Summit on Environment and Development
.
This is the first book written by David Ray Griffin available Japanese and I hope to be able to sell this book far and wide so that 911 truth can spread here and to Japanese living around the world. To this day, very few people in Japan know the real truth of what really happened on September 11th, 2001.
The original title of the English version is 'The New Pearl Harbor - Disturbing Questions about the Bush Administration and 9/11', however, as is usually the case when translating to another language, we had to change the title to something more appropriate to the local market. The translation of the Japanese title is 'Are the Events of 9/11 a Conspiracy? - 'The New Pearl Harbor of the 21st Century' and the Bush Administration'.
If you have Japanese friends, please recommend this book to them. The title in Japanese is "9/11 jiken wa boryaku ka." 『9・11事件は謀略か』 It is published by
Ryokufu Shuppan
 (緑風出版) and costs 2800yen plus tax.
It is available
from our web store
.