Today I had an opportunity to meet with Gerald and Janis Matthew and interpreted for them. They are visiting Japan from the US to inform the Japanese public and military of what has happened to him and their daughter after he went to Iraq as a US soldier. He was a driver for US Army carrying destroyed equipment and trucks, mostly of Iraqi origin, that was being moved from southern Iraq to Kuwait.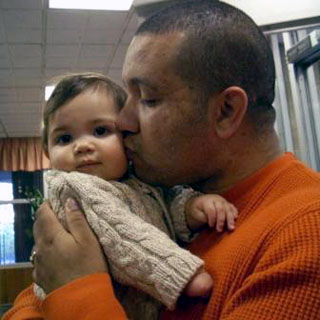 After he was discharged from the military, his wife got pregnant and their daughter was born missing three fingers on her right hand. He didn't supect anything till doctor asked him if he was ever exposed to any chemical or radioactive materials. At that time, he had no idea if he had been or not.
However, not long after that he found out about DU (depleted uranium) and from that time on his wife started speaking out! Following her courageous lead, Gerald decided to reveal truth to help save not only his daughter but also all the other children affected by the radiation resulting from DU. He now advocates the total elimination of DU type weapons.
I was very moved by their story, especially when they talked about Victoria who is now 17 months old. It was amazing to see her come to her dad and hold his leg tight whenever he got upset or angry about the situation (especially when people asked questions about her missing fingers or when they stared at her hand out of curiosity). He now has started controlling his anger even though his symptoms are getting worse: his has migraines, swelling of his face and body, burning sensations, numbness, blurred vision, coughing, and more...
Gerard & Janise Matthew at the Foreign Correspondents Club of Japan on Nov.7 2005 (Photo by Yumi Kikuchi)
He is a fighter, and so is his daughter Victoria, Janise says. She wants her to grow up strong and to overcome the disability she has been born with. Please listen to what they have to say if you can!
They will be speaking at Meiji Gakuin University from 6:45pm to 8:45, on Monday, Nov.7. in Shirogane, Tokyo. Hope you do not miss this opportunity to meet and listen to them.
Late Breaking News!
Nov. 8th, 2005 - The English edition of the Daily Yomiyuri published this article about the Matthew family.
http://www.yomiuri.co.jp/dy/world/20051108TDY04005.htm
Nov. 22nd, 2005 - The Japan Times published the following story:
http://www.japantimes.co.jp/cgi-bin/makeprfy.pl5?fl20051120x1.htm