Finally some news coverage about 911 Truth Conference!
It is hard to imagine but our 3rd 911 Conference tour has not had a mention in any of the major Japanese newspapers. Though newspapers published in Okinawa cannot really be considered 'major' in Japan, the following article appeared on December 12th.
This is written by Mr. Koichi Makishi, an architect living in Okinawa.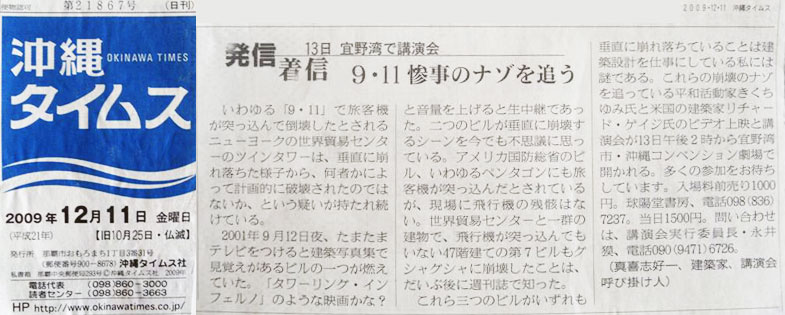 Here is a translation:
***********
Lecture in Ginowan on the 13th
Chasing the Mysteries of 9/11 Tragedy
Due to the way the WTC twin towers in New York City fell straight down, as if they had been planned to be destroyed, I have had some doubts about the official US government story.
The night of September 12, 2001, I happened to put the TV on and saw a familiar building that I keep in my architecture portfolio, on fire. I turned the volume up thinking it was a movie like "The Towering Inferno" only to find out it was live.
I am still mystified to this day by the scene of the two buildings collapsing vertically straight down.
Not only that, but they say a commercial aircraft crashed into the Pentagon - the US Department of Defense, yet no aircraft wreckage could be seen at the scene.
Long after that day, I read a magazine and I came to learn about the 47 story Building 7 (at the World Trade Center Complex), which collapsed completely (on the same day as the twin towers), yet no plane had crashed into it.
As my career is in architectural design, it is a mystery to me why each of those three towers tumbled down vertically as they did.
There will be a film showing and lecture held with a peace activist Yumi Kikuchi and American architect Richard Gage who are both trying to resolve the mystery of the collapses.
It will be held from 2pm on 13th at the Okinawa Convention Center Theater in Ginowan City.
We welcome many to join us.
Entrance fee: 1,000 yen/advance purchase.... 
[Yoshikazu Makishi, Architect & co-organizer]
Translation by Aus911Truth
***********
PLEASE JOIN US AT THE EVENT TODAY REGARDLESS OF YOUR CURRENT STAND AT TO WHAT HAPPENED ON THAT FATEFUL DAY IN SEPTEMBER EIGHT YEARS AGO.
If you want to learn the truth about anything, if you want to be fully informed, then it is important to listen to all opinions, even those that might be furthest from your current belief.
For it is only with complete knowledge and then careful and deep research that we can come to a reliable conclusion.
Tickets to todays event at the Okinawa Convention Center Theater can be bought in Lawson.
Here is the address:
〒901-2224
Okinawa Prefecture
Ginowan City
Mashiki 4-3-1
TEL:098-898-300
Map:
http://www.oki-conven.jp/modules/tinyd3/content/index.php?id=6
Lawson ticket L code 89111
Ticket price: 1,500 at the door today
Contact: Nagai San: 090-9471-6726