I will be speaking on this show tomorrow morning (Sunday) from 8-10am in Hawaii.
http://carrollcox.com/
If you are in Hawaii or have friends in Hawaii, it is KWAI 1080AM. If you are local, you can call in on:524-1080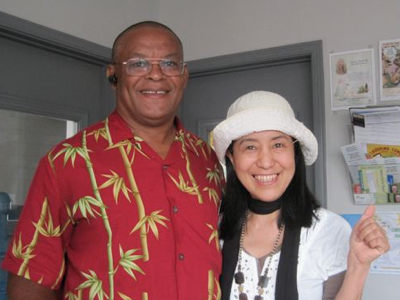 I will be speaking about the Earthquake, Tsunami and Nuclear Power Plants disaster in Japan and our Tsunaguhikari campaign to evacuate pregnant women and children away from the radiation. We are currently moving/evacuating/finding homestays in Okinawa.
For more information, please go to our website:
つなぐ光(Japanese site) 
http://tsunaguhikari.jp
Tsunaguhikari(English)
http://tsunaguhikari.weebly.com/
Thank you for your support!
We do need donatioNS to help with transporting those women to Okinawa. The airfare from the Tohoku area to Okinawa is about $700 per person and many have lost everything and can not go back to homes as they are too contaminated with radiation. They will not be able to return to the area near the Fukushima Daiichi nuclear power station for a while, possibly for a long while.
The half life of caecium is 30 years. It accumulates in the soil. Their fertile farm land will be unsuitable for farming for a long long time I am afraid.
The half life of plutonium is 24,000 years. Fukushima No.3 reactor has plutonium so I am very concerned.
http://goo.gl/Nn38C
Here is the latest news. The situation continues to be quite serious:
http://www3.nhk.or.jp/daily/english/27_12.html